In this together….
---
A partnership offers a great vehicle for operating if you provide professional services and are able to agree a profit share agreement.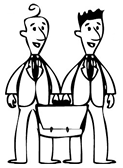 It provides privacy as financial and earning data is not publicly available and can reduce reporting requirements. With the possibility of now limited your liability whilst still operating under a partnership agree, this commercial vehicle is even more appealing.
If you are considering forming a partnership, whether there is just two or many more of you in business together, contact us to discuss the pro's and con's of this arrangement.  We have an experienced team of accountants and tax advisors in our Brentwood and Canary Wharf offices, ready to help, contact us today.
Ben Cohen and Jerry Greenfield, Bill Hewlett and Dave Packard, Warren Buffett and Charlie Munger, Sergey Brin and Larry Page, Steve Jobs and Steve Wozniak….
Partnerships