Counting Beans
---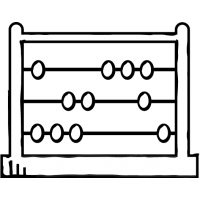 Information is key to success, it enables you to identify anomalies and trends allowing you to control and prevent negative events whilst giving you the ability to exploit and develop opportunities.
As a company Director it is essential you have the right tools to run your business and also fulfill your statutory responsibilities.
Our accountants can provide advice and guidance along with the practical assistance to ensure you are operating efficiently and in compliance with the law.
We have extensive experience and knowledge gained in large global institutions enabling us to deliver innovative and creative solutions to your business at a cost that's agreeable to you.
Our accountants can implement systems and controls which will enable you to extract, monitor and analyse your data as and when you need it most.
We can provide training and support around the tools we provide to ensure you and your team are utilising all relevant aspects.

Bookkeeping & Management Accounts
---
We partner with all market leading software providers, we work with you to assesss requirements and suggest the best bookkeeping platform for your business. Our solutions range from a simple spreadsheet for low volume organisations through to cloud and desktop based applications.
WE are certified partners for SAGE, Quickbooks, XERO and Kashflow. The market is moving more towards cloud based applications which offers data integrity, protection and gives you the flexibility of how and when you access your books and record.
If you prefer, we can provide bespoke bookkeeping services, on or off site, allowing you to concentrate on running and growing your business, a specific engagement will be provided to cover this work, with competitive hourly rates, if you are short staffed this may be the ideal solution for your business.
We offer discounted rates on all bookkeeping packages, contact us for a bespoke quote.
We are here to help your business achieve it's potential and believe robust Management Information is critical in achieving that.
Statutory Accounts
---
UK financial reporting is undergoing it's most significant change in a generation.
With the alignment of UK GAAP with International IFRS Standards, it is imperative you choose the correct reporting framework under which to prepare your companies financial statements.
Not only will your financial statements dictate the level of corporation tax you pay, you also need to consider that potential investors, banks, suppliers and customers will often reference these statements as part of their respective decision making process.
Your financial statements are publicly available, and free to download by all at Companies House.
In these changing times we ensure your financial reporting is prepared correctly under the most suitable framework for the size and nature of your business.
As registered agents, we have integrated software linking us with HMRC and Companies House and provide direct iXRBL tagged filings and returns.
I pay what tax I have to and not a penny more
Accounting